CHIEF SAFETY& SECURITY MANAGER/HYDROGRAPHER/SENIOR PORT STATE CONTROL OFFICER
+501-222-5666 Extension: 227 mjenkins@portauthority.bz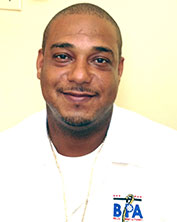 Belize has an international obligation under the Convention for the Safety of Life at Sea (SOLAS) to provide accurate hydrographic information to mariners to enhance navigational services and navigational aids.  The department is also responsible for:
Inspection of all vessels that are registered and licensed in Belize.
Conducting annual inspection & verification of the port facilities to enforce the requirements of the International Ship and Port Facility Security (ISPS) Code.
Reviewing of any development which has the potential to impact the environment or safety of navigation. This involves reviewing any proposed over water structure and representing the Authority on the various committees which conduct public consultations, Environmental Impact Assessments (EIA), and site inspections.
Hydrography Unit
The Hydrography Unit is responsible for facilitating bathymetric surveys in order to properly chart the territorial waters of Belize.  This includes the maintenance of accurate charts for safe navigation, which in turn serves to minimize damage to Belize's unique marine environment and corals resulting from groundings and unsafe anchorage.
Stakeholder's Meeting: 09 January, 2018:
A stakeholders meeting hosted by the Belize Port Authority (BPA) in collaboration with the Commonwealth Maritime Economies Programme was held on 8 January, 2018.  The meeting was to update stakeholders on hydrographic surveys to be completed by Fugro Geo Services Inc.  With the update of Belize's nautical charts this will allow for Belize to meet its international obligation, identify areas of trade, and provide updated information to mariners navigating in Belize's territorial waters.
Stakeholders in attendance were from the ports, non-government agencies and shipping stakeholders.
The Commonwealth Marine Economies (CME) Programme aims to support the sustainable growth of Commonwealth Small Island Developing States (SIDS) within the Caribbean and Pacific Ocean regions.
UKHO conducts seabed mapping in Belize to support marine economy
22 January, 2018. Following a stakeholder meeting with the Belize Port Authority and wider government earlier this month, priority areas will be surveyed, capturing sonar data of Belize's main ports and approaches. High-frequency mapping sonars are being used which have no negative impact on its diverse ecosystems and marine life. The survey is expected to continue throughout February and will focus on areas including Belize City, Big Creek and Commerce Bight.
Information from the survey will be used to update nautical charts of the region, as well as helping Belize to meet its international maritime obligations, including respective elements of the Implementation of IMO Instruments Code (IIIC). These updated charts will reduce navigational risk and improve the safety of ships, cargo and crew. Data will also support a range of environmental and scientific applications, enabling Belize to better manage the marine environment in these areas.
By supporting safe navigation in the region, it is expected to bring economic benefits to Belize, by encouraging access for its growing cruise ship sector and maximizing the efficiency of trade by enabling ships to confidently increase cargo-carrying capacity.
All data will be made available to the Belize Port Authority and wider government once it has been processed and validated by teams at the UKHO. The data could also bring environmental benefits to the state, by facilitating the sustainable management of fisheries and other marine resources, as well as supporting coastal protection and management.
This work forms part of the CME Programme, a programme delivered on behalf of the UK Government by the UKHO, the Centre for Environment, Fisheries and Aquaculture Science (Cefas) and the National Oceanography Centre (NOC). The programme aims to support the sustainable growth of Commonwealth Small Island Developing States (SIDS) by making the most of their natural economic and environmental resources 2018. Read More…