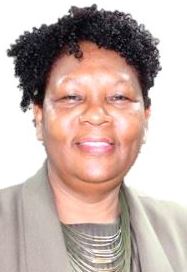 MRS. MERLENE BAILEY MARTINEZ, MBA, JP
PORTS COMMISSIONER
Mrs. Merlene Martinez was appointed as the Ports Commissioner of the Belize Port Authority on 01st June, 2013.  She comes to the Authority with many years of service in various management positions in administrative and enforcement agencies throughout her Public Service career.
Born in Mango Creek, Belize on 25th December, 1956, Mrs. Merlene Martinez holds a Master's Degree in Public Service (International) at the University of Birmingham, United Kingdom (2001), a Bachelor's Degree in Business Administration (Summa cum Laude) (1992), University of Belize, Member of the Association of Accounting Technicians, (1990), General Certificate of Education, Advanced Level in Economics and Accounting, University of London (1990) and a High School Diploma from Wesley College in Belize City.  Mrs. Martinez received a Paul Harris Fellow Award (2008) of the International Rotary Club, and was commissioned as a Justice of the Peace (JP) for the territory of Belize.
As the Ports Commissioner/Harbour Master, she is the director of the Authority and responsible for all functions entrusted to her under the Belize Port Authority (BPA) Act CAP 233, Harbours &  Merchant Shipping Act CAP 234; Wreck and Salvage Act CAP 237 and  Abandoned Wreck Act CAP 235.  She is the Chief Executive Officer of the Belize Port Authority, with all legal and financial responsibilities that entails.
Under Mrs. Merlene Martinez's leadership, the port State control operations and safety and security of the maritime community in Belize continue to be a main focus of the Authority, particularly in fulfilling Belize's obligations under the various international conventions and ensuring that the training opportunities continue to be utilized.
With a committed and competent workforce of seventy-eight (78) at the end of fiscal year 2017/2018, the Authority continues to rise to the challenge to meet the demand of the public by offering efficient and flexible services.
Mrs. Martinez' vision for the Belize Port Authority is to continuously develop the organization to be able to respond in a timely and appropriate manner to the rapidly changing and demanding maritime sector.